Not all vendor management systems (VMS) are built the same. In fact, it's these differences between VMS's that are key. Of course there are fundamental qualities and features all VMS's should exhibit, however how a VMS differs from others can be key in aligning with your organization's objectives. 
Finding compatible technology solutions and features are dependent on industry, size, and overarching goals. Within the healthcare sector, finding top-tier talent quickly, efficiently, and cost-effectively is a major challenge organizations face. Healthcare systems are financially strained and experiencing an ever increasing skills gap, expected to persist through 2030. 
Healthcare facilities are utilizing diverse workforce solutions to address an ever growing staffing crisis, with a popular solution being direct sourcing and internal staffing. Many facilities are turning to in-house staffing programs in order to meet their immediate and long-term staffing needs. In-house staffing and direct sourcing through the use of VMSs offer healthcare systems several competitive advantages including:
Mitigating and reducing costs

Autonomy throughout the recruitment cycle

Creating a pool of qualified talent to tap into

Recruiting, retaining and recapturing long-term staff

Improving healthcare system consistency and experience

Anticipating trends and averting shortages
This StaffBot blog curates 5 key VMS features healthcare organizations want to pay close attention to when it comes to researching and investing in a VMS. Learn how StaffBot stacks up to the competition and how these 5 key areas impact your healthcare staffing efforts.
StaffBot vs. a Standard VMS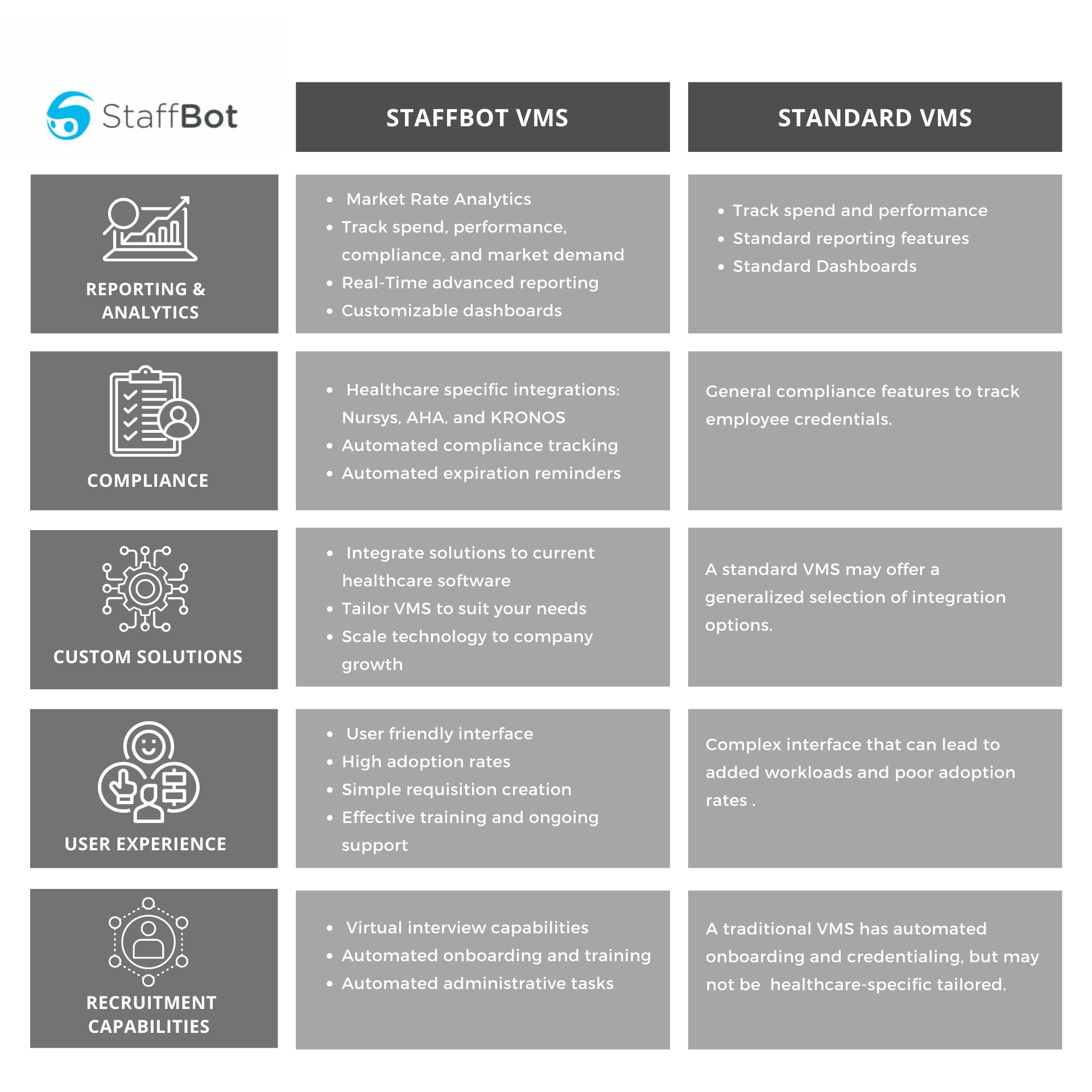 1. Reporting and Analytics
Reporting is at the core of any workforce program. Data gives valuable insight into all facets of any contingent workforce program and allows companies to identify areas of inefficiencies for greater growth and data-driven action. 
Healthcare-specific use cases:
Take control of rogue spend by utilizing rate intelligence. Market rate features allow for visibility into actual rates of open job positions specific to healthcare occupations.

Track compliance data to understand who is working for you and who is compliant

Track organizational spending habits

Monitor health facility trends, demand, and seasonal fluctuations

Monitor labor usage within facilities, departments and units to better understand labor needs
2. Compliance
Organizations can often struggle with proper classification and compliance. Improper credentialing within a healthcare setting can jeopardize your brand, incur penalties, and threaten patient wellbeing. Ensuring qualified talent is a top priority for healthcare organizations. Ensure a VMS integrates with commonly used healthcare compliance software to seamlessly notify your organization on compliance documentation.
Healthcare-specific use cases:
Integrations with the American Heart Association to easily tracking AHA certifications (a qualification for the majority of healthcare professionals) 

Integrations with Nursys to track and monitor registered nurses' licenses. 

Transparent insights into documentation and credentials of all employees

Automated notifications of upcoming expiring documents or currently expired documents
3. Customization Capabilities
Understand the customization capabilities of a VMS, as all VMSs vary greatly in their flexibility. Some VMSs come as a standard solution. This can be problematic as inflexible solutions may restrict workflow operations, or even worse, dictate how you must operate based on its limitations. Invest in solutions that are easily customizable and integrate to your current software to create a seamless workflow.
Healthcare-specific use cases:
Integrations with compliance tracking software such as Nursys and the AHA

Integrations with Kronos time management

Custom technology to scale along with business growth
4. User Experience
Integrating technology into daily workflows is a major commitment. Not only does your organization want functioning technology that tailors to your needs and goals, but it has to be user-friendly. Technology is the heart of any modern contingent workforce management program, it's what drives day-to-day workflows and are the solutions your employees will be interacting with daily. A difficult user-interface runs the risk of low adoption rates, which can lead to a VMS falling short of expectation. 
Healthcare-specific use cases:
Intuitive layout to create and distribute job requisitions

Adheres to healthcare staffing standards

Easy to troubleshoot

Easy interface to navigate 
5. Recruitment Capabilities
Recruiting top-quality talent can be a time-consuming and costly process. Automating important touch points throughout the recruitment life cycle helps create an efficient, cost-effective process to source and recruit candidates. This in turn can create a strong workforce program that allows for profit and growth. 
Healthcare-specific use cases:
Virtual interview capabilities compatible with healthcare hiring staff's schedules

Automated onboarding and offboarding

Automated sourcing, matching, and credentialing

Automated invoicing and time management
Strengthen your 

contingent

 workforce
StaffBot is an experienced healthcare VMS provider and workforce solutions consultant that optimizes healthcare contingent workforce management unique to each healthcare organization. We understand the challenges healthcare facilities face and the need for efficiency, quality, and cost- effective solutions.
Contact us or sign up below to connect with an expert and determine if your contingent workforce program can be better strategized for optimized growth.
Connect with an expert or request a demo
"*" indicates required fields