What makes a vendor management system (VMS) the right vendor management system? How do you know a VMS provider is the right partner for you? These questions are fundamental when looking to invest in new technology. Imagine, after financially investing in new technology, implementing new software, training your team, and disrupting business operations, you find out that your new VMS solutions fall short of expectation – this is an understandable concern, particularly for healthcare facilities already dealing with constant shortages.
Deciding on the right VMS will look different for each organization as each facility has their own unique challenges and objectives, however, when researching a suitable VMS for your organization, it is important to keep in mind that there are certain features that all VMS and VMS providers should exhibit. This StaffBot blog outlines 7 key features every vendor management system should have in order to invest in the right VMS and maximize your contingent workforce strategy.
1. Centralized Database
The primary capability of VMS technology is the ability to centralize all information into a single, centralized database. Centralization allows your organization to store and organize all data, contacts, and documentation within a single platform that is easily retrievable for everyone. Long gone are the days of outdated manual data keeping methods, such as files and spreadsheets, which siloes important data, slows workflow, and leaves room for error. To stay competitive in today's workforce management landscape, automated and centralized data is essential as centralized data allows for efficient, accurate record keeping. 
2. Automated & Streamlined Workflows
A defining component of a VMS is an automated and streamlined workflow, particularly across the recruitment lifecycle. A quality VMS will make the process from requisition, credentialing, interviewing, invoicing, and timekeeping, easy and efficient rather than adding difficulties. For example, StaffBot's VMS automates critical touchpoints throughout the recruitment lifecycle, such as timekeeping, virtual interviews, onboarding and healthcare-specific compliance tracking. Automating these critical touchpoint helps increase fill rates with skilled talent seamlessly. Search for a VMS that specializes in automating these processes specific to your industry and workflow.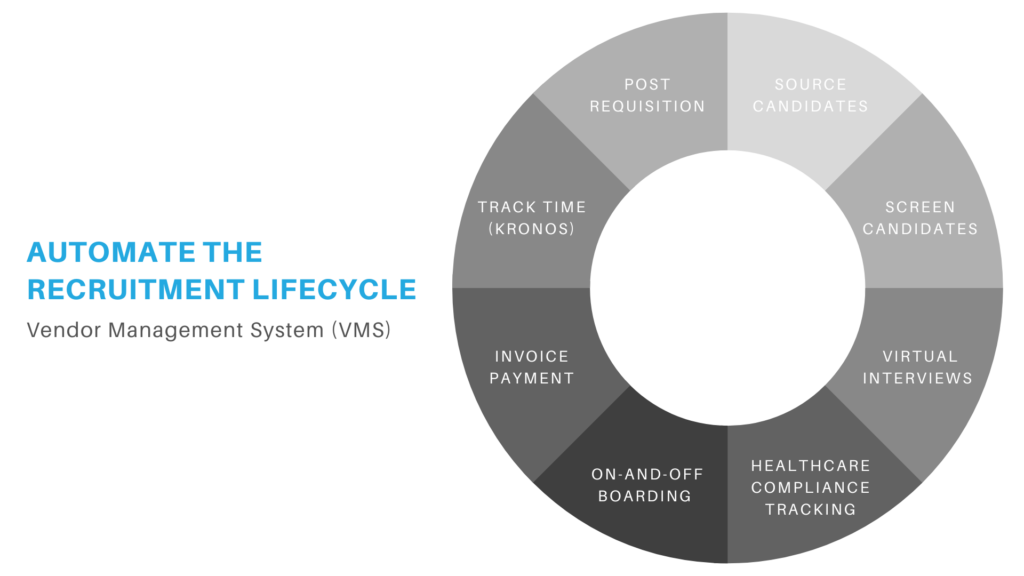 3. Compliance Tracking
A reliable VMS will monitor and track critical information and compliance items. By managing and tracking compliance documentation, such as on-and-off-boarding items, position-specific requirements, certifications, licenses, vaccinations and contract renewal dates, you can ensure your organization is up-to-date and adhering to healthcare employment standards.
Real-time compliance tracking is a must in healthcare. Organizations cannot afford to oversee onboarding under-qualified healthcare staff as it jeopardizes patient safety and your organization's reputation as a healthcare facility. Invest in a VMS that specializes in tracking healthcare-related compliance items. For example, StaffBot's compliance tracking integrates with Nursys and the American Heart Association (AHA) to notify your team who is qualified, expired documents, and any upcoming expiration dates to stay ahead. 
4. Analytics and Reporting
Detailed, customizable reporting and analytics is essential for an effective VMS and tracking your goals. Ensure the VMS you are considering has robust reporting capabilities specific to your business objectives. Powerful reporting capabilities yield oversight into job market demand trends, organizational spend, and hospital trends. Important analytic features that should be included in a VMS include:
Custom reporting

Scheduled and automated reporting

Ad hoc reporting
5. Customizable Technology
The VMS you choose should be customizable and flexible to your business model and workflow. Contingent workforce management varies from the use of managed service providers (MSP's) to in-house staffing or a hybrid model of both and a VMS should adapt to your organization's established business models, technologies, and processes. Successful VMS's are tailored to the needs of your organization and existing structure, it should not dictate your overall workflow. Additionally, keep in mind that contingent workforce management models evolve, industry trends change, as well as job market demands so investing in technology that is flexible with ever changing factors is imperative.
6. Implementation and Support
Implementation is a major component in partnering with the right VMS provider and would be a costly mistake to overlook. Implementing a new technology requires ongoing strategizing, communication, training, and support. A reliable VMS provider will outline a streamlined implementation process and methodology with your organization and stakeholders. After implementation, importing data, training and testing the VMS with stakeholders, a VMS provider should maintain contact, quarterly business reviews and one-on-one support long after integration. 
7. Increased Collaboration 
The ability to unite collaboration between various facilities and departments handling contingent staff is enabled by VMS solutions. A VMS unites all departments together and notifies each person within a department when they are needed in the process. This maximizes time and efficiency for all involved. Search for a VMS that strengthens communication and enables greater departmental engagement.
Strengthen your 

contingent

 workforce
StaffBot is an experienced healthcare VMS provider and workforce solutions consultant that optimizes healthcare contingent workforce management unique to each healthcare organization. We understand the challenges healthcare facilities face and the need for efficiency, quality, and cost- effective solutions.
Contact us or sign up below to connect with an expert and determine if your contingent workforce program can be better strategized for optimized growth.
Connect with an expert or request a demo
"*" indicates required fields