Elements of a well-designed user interface
What is a user interface and why is it important? The user interface (UI) of a software solution consists of the features and visual touchpoints that facilitate user interaction. Important user interface components include visual layouts, functional features (such as input controls), and reactive design elements that generate a type of communication to the user, as well as several other elements (explored below). These varying components aggregate together to create an interface that allows easy engagement for users, which positively increases the user experience (UX).
A satisfying user experience is a top priority for organizations seeking to invest in new workplace software systems. Easy usability through a user-friendly interface is essential. No one wants software that adds additional work. People want solutions that alleviate work and are easy to use for those at varying digital skill levels.
Investing in software that misaligns with workflows, is difficult to use and has limited flexibility results in higher instances of contacting support, design errors, and low adoption rates. This can hurt organizations financially and hinder achieving business goals that the software was meant to achieve in the first place.
Checkout this StaffBot infographic to understand the important elements of a well-designed user interface for your next software solutions and how StaffBot's solutions facilitate easy VMS usability for healthcare systems seeking to integrate new workforce solutions.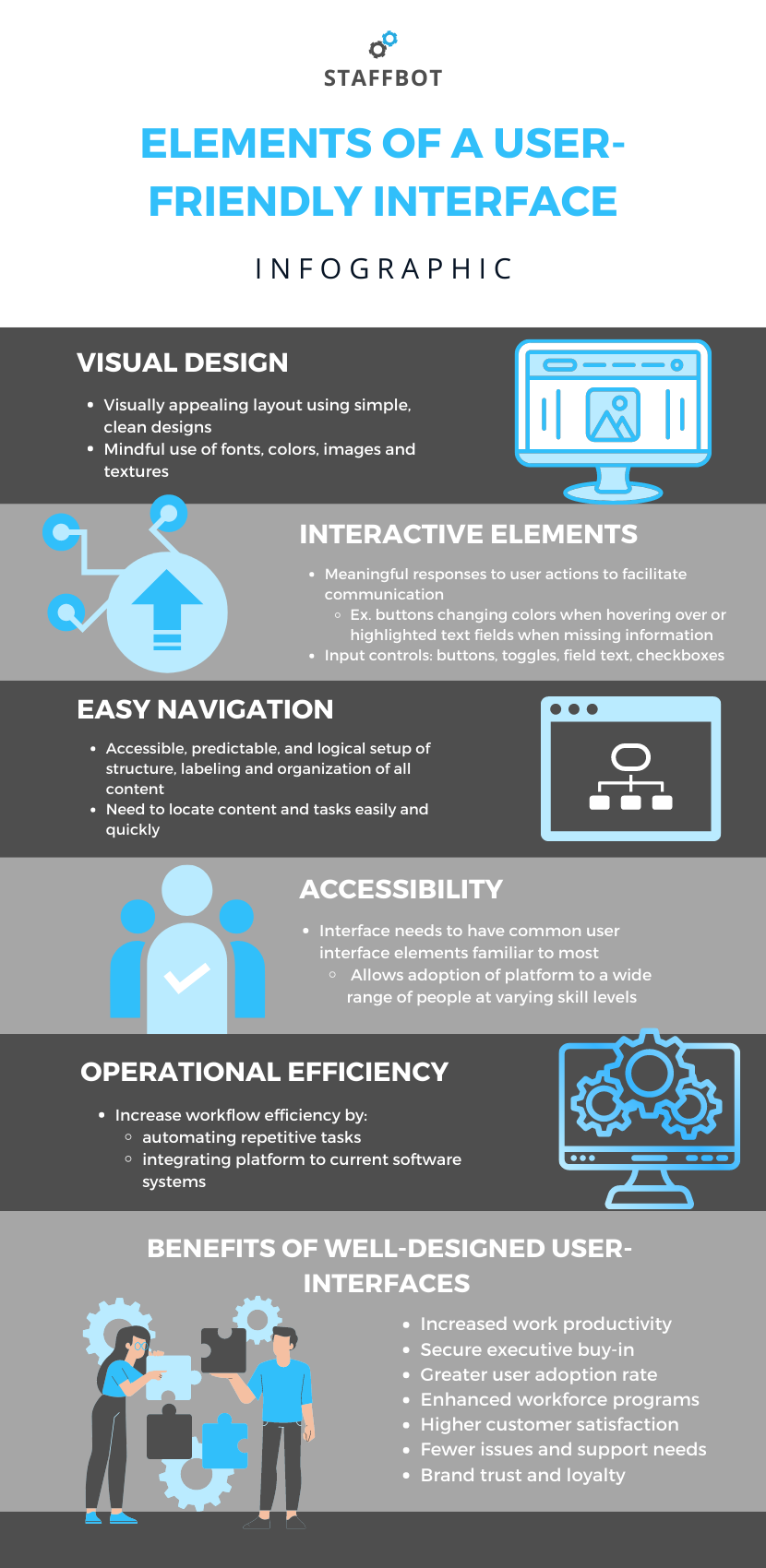 StaffBot's user-friendly VMS for healthcare systems
Coping with shortage demands and fast paced staffing environments, organizations cannot afford to invest in solutions that hinder the recruitment cycle. Difficult user interfaces can hinder recruitment, workflows, and decrease ROI.
StaffBot's VMS understands the workflows and needs of healthcare recruitment programs. StaffBot anticipates these needs and offers solutions to fulfill recruitment and hiring goals. Have easy access to dashboards, reports, compliance items, time systems, candidate placements, and job requisitions within a straightforward and easy-to-use layout. StaffBot's VMS further increases the user experience by alleviating redundant tasks through automation. Easily automate administrative tasks such as time management, invoicing, and compliance tracking to enhance workflows.
Want to see for yourself?
Sign up below to schedule a complimentary demo or have a recorded demo sent to you!
Connect with an expert or request a demo
"*" indicates required fields