A vendor management system (VMS) is a software as a service (SaaS) solution that manages the end-to-end processes of sourcing, acquiring and managing an external workforce. A key feature of a VMS is that it integrates several sources of data within a single, easy-to-use platform to monitor and manage a contingent workforce. With various departments and processes involved in acquiring external labor, this centralization allows for seamless recruitment, management and communication between teams. A VMS also integrates external software and technologies within its platform to further unify data and processes, such as accounting or timekeeping systems. 
By centralizing siloed processes, organizations have the added benefit of automating and streamlining processes such as invoicing, process requisitions, and onboarding steps to seamlessly recruit candidates. This allows organizations to improve efficiency and accuracy throughout the hiring lifecycle.
Organizations can use a VMS in conjunction with a service provider to manage a workforce or it can be used on its own for institutions conducting in-house staffing operations.
Using a VMS to Manage a Contingent Workforce
With an increased reliance on external labor within every business sector, procuring, engaging and managing contingent labor effectively must be reevaluated. Traditional methods are inefficient in addressing the rising complexities involved in acquiring and managing external labor. Particularly, technical limitations pose several challenges for organizations utilizing contingent labor including: 
Overwhelming administrative tasks
Low workforce visibility
Increased rogue spend
Miscommunication
Fragmented hiring processes
Hindered recruitment
A VMS allows organizations to systematically store information within a single source of record to gain visibility into their workforce and management processes. This allows organizations to transparently see who is working for them, at what rates, where they are working and when their contracts are set.  
Centralization further enables organizations to automate and streamline operations to minimize the effects of fragmented hiring processes that lead to miscommunication, increased spend, and hindered recruitment processes. Use a VMS to unify all hiring and management process of contingent labor for an efficient contingent workforce program.
Increased visibility not only applies to knowing who consists of your contingent workforce, but allows organizations to have greater visibility into data and spend within contingent workforce programs. Use data and reporting to understand market rates, spend, performance, and how to strengthen contingent workforce programs, for a profitable workforce model.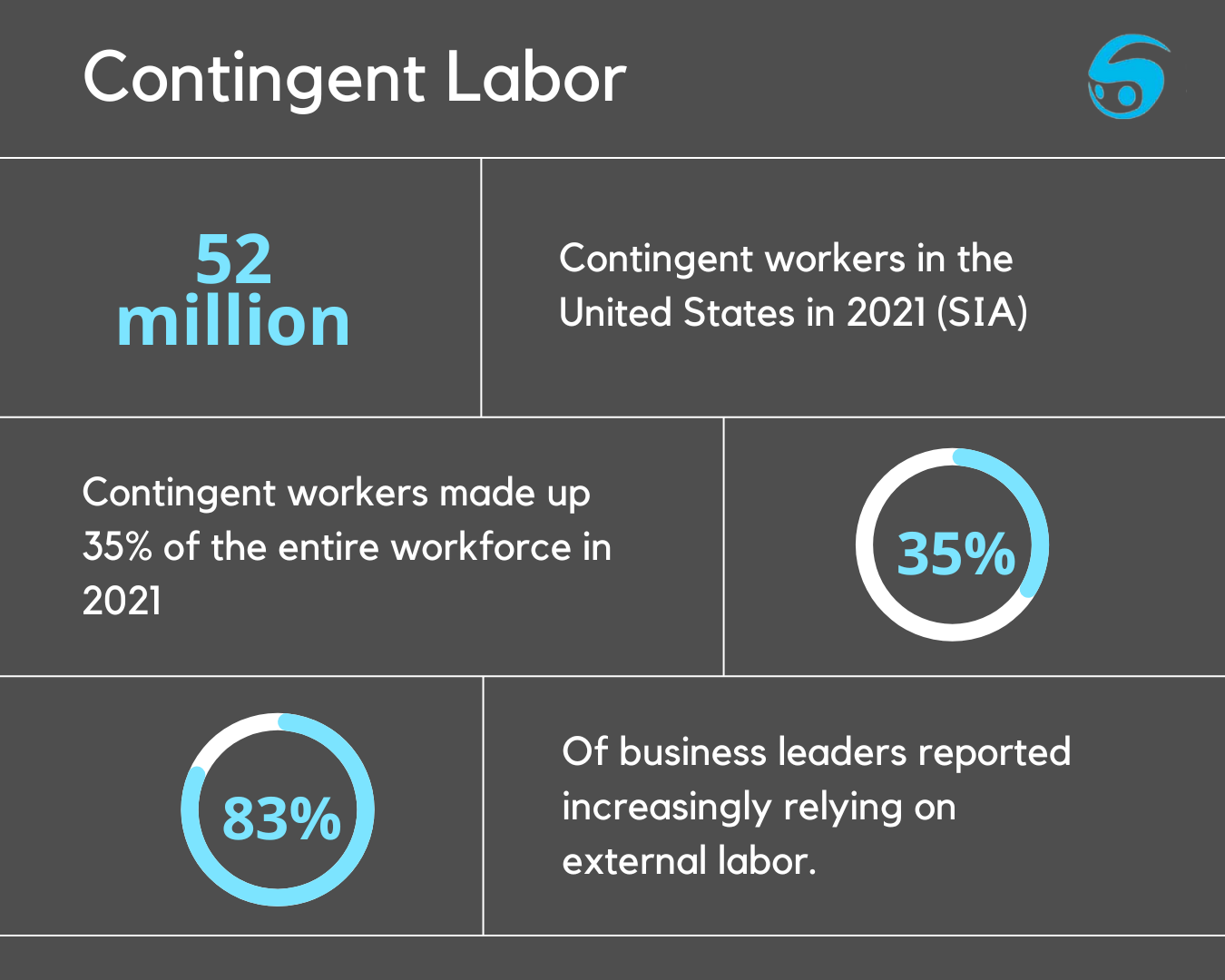 VMS Functions in Contingent Workforce Management
1. Data Consolidation: centralize various forms of data within a single source of record for easy access and visibility.
2. Automate and Streamline Recruitment: unified data and system integrations allow a VMS to automate and streamline talent acquisition touch points such as:
Requisition creation and distribution
Interviewing, onboarding and off-boarding
Sourcing, matching and screening candidates
3. Automate Administrative Tasks: with system integrations to your HR, timekeeping and account software, a VMS can easily consolidate data and automate tasks such as timekeeping and invoicing to reduce inaccuracies and save time.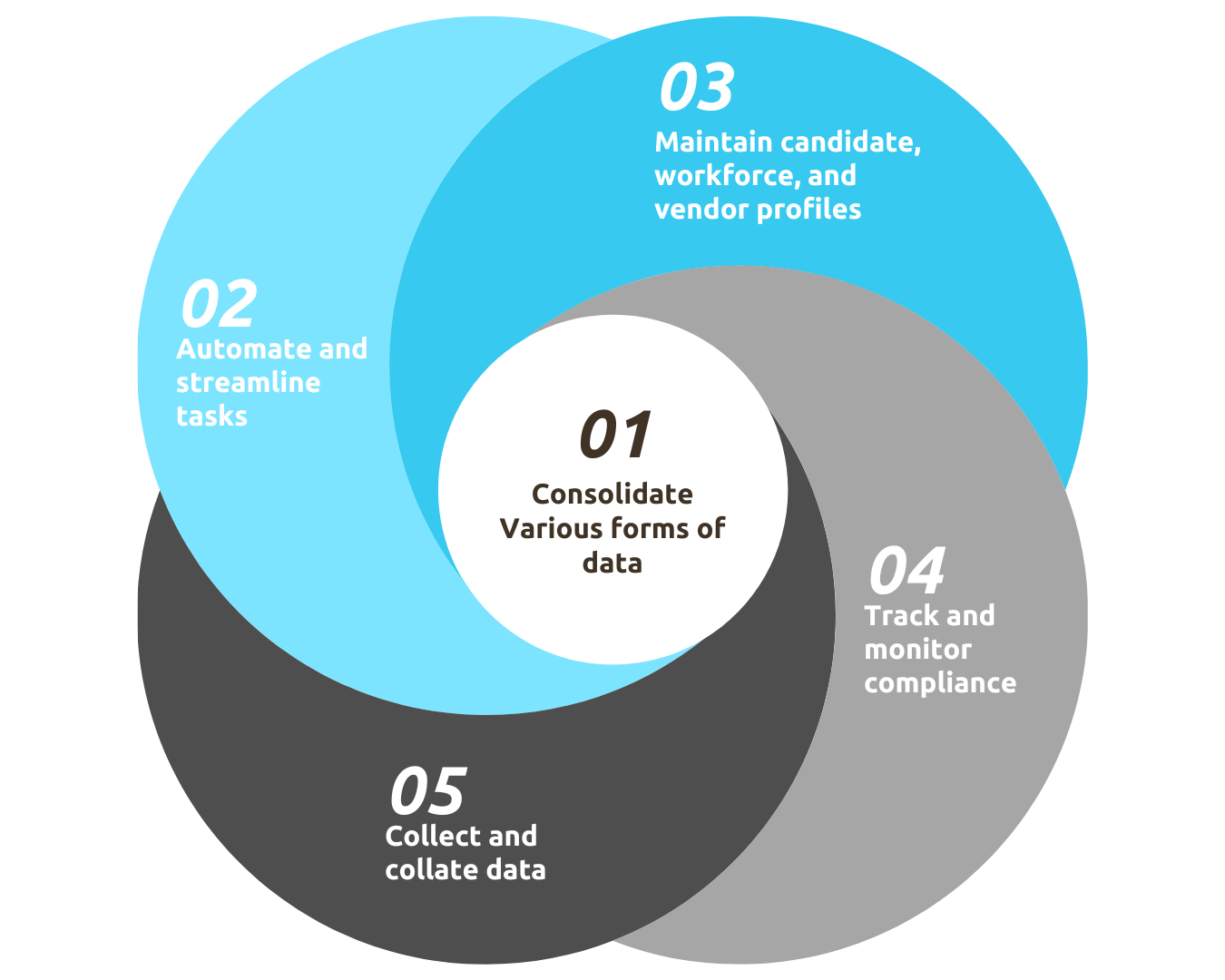 4. Workforce Transparency: maintain candidate, workforce, and vendor agency profiles in an easily accessible system.
5. Track compliance and classification: monitor who is credentialed, those requiring compliance documentation, and upcoming expiring records with compliance tracking tools and integrations.
6. Data Analytics: collect and collate data for powerful reporting to get insights into:
Spend visibility

Past and emerging trends

Performance metrics

 
Not at all vendor management systems are created the same. Many can differ by its features, tools and capabilities. This can be particularly true if a VMS is configured to cater to a specific industry. Regardless, many VMS's share related key features and tools. Common capabilities and features a VMS can exhibit include:
Market Rate Tools: rate intelligence tools provide market rate insights of occupations within a given region. It's AI-powered predictive capabilities often allow organizations to not only see past and current rates for going occupations, but it also provides estimates for future rates to financially prepare an organization.
Virtual Interview Tools: with recruitment increasingly being conducted remotely, video interviewing is an essential feature a VMS must be capable of to help seamlessly recruit contingent labor. Use virtual interview tools to have interview questions prepared and allow candidates to record themselves responding to prompted questions. Access videos at anytime among all hiring members.
Candidate-Match Pairing Features: the AI-powered nature of a VMS enables it to efficiently source candidates within your talent pool that best match candidates to the assignment. Based on candidates' reviews and the job description, a VMS can sort best-fit candidates to help hiring teams source efficiently.
Custom Integrations: organizations vary in the software and tools they use on a daily basis depending on their industry. An effective VMS is flexible and customizable to integrate with frequently used software to further create a seamless workflow. For example, StaffBot's VMS integrates with frequently used healthcare compliance systems, such as the American Heart Association or Nursys, to enable efficient onboarding for healthcare systems.
Utilizing VMS technology offers organizations several competitive advantages and benefits including:
Visibility: visibility into workforce, organizational spend, headcount, performance, data, trends, and vendors.
Efficiency: streamlined workforce operations throughout the recruitment cycle save time and resources spent on labor-intensive tasks and ensure greater fill rates. 
Reduce Spend: with real-time market rates, manage labor costs and avoid overpaying for talent. Have increased spend visibility to help monitor and mitigate rogue spend.
Talent pipeline: build an on hand talent pool ready for quick deployment to fill vacancies and avoid shortages.
Comprehensive data: have powerful analytics to take data-driven action. Create custom, automated, scheduled and ad hoc reporting.
Quality hires: powerful compliance integrations allow organizations to evaluate the qualifications of their workforce to ensure skilled talent and compliancy.
Scale business operations: increase profitability through greater efficiencies, workflows, and cost savings.
How can we help? A healthcare-tailored VMS.
StaffBot VMS specializes in healthcare contingent workforce management. With an ever increasing reliance on temporary nurse staff, a VMS is an invaluable asset in efficiently and cost-effectively managing travel clinicians.
For institutions seeking to conduct internal staffing operations or utilizing managed service provider (MSP) services, StaffBot supports your institution's workforce objectives to create long-term sustainable workforce programs.
Learn how we can further your goals. With a wide range of services from VMS technology to workforce consultants, StaffBot tackles your healthcare recruitment challenges with custom solutions.
Connect with us with by filling out form below!
Connect with an expert or request a demo
"*" indicates required fields