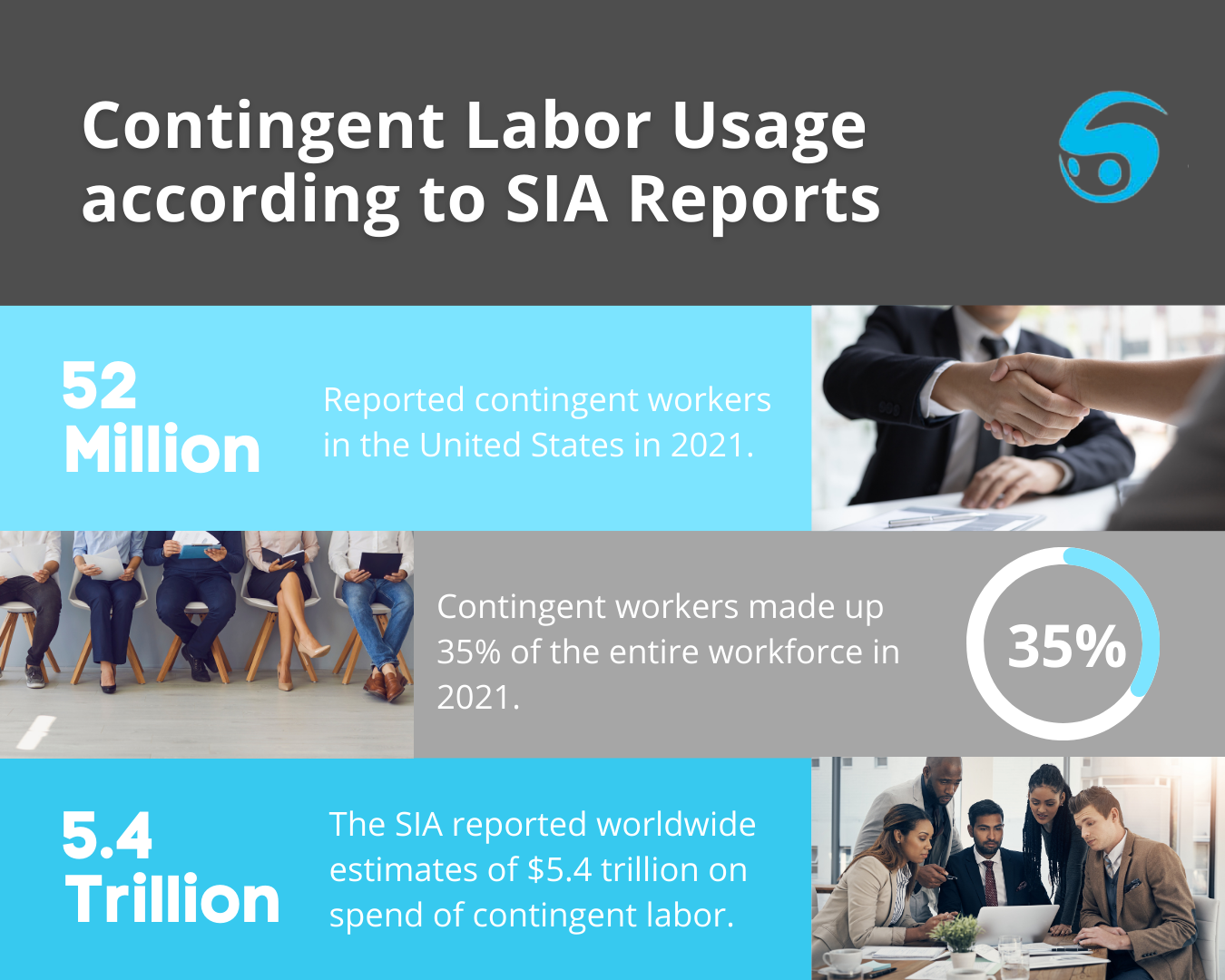 With increased reliance and popularity of contingent labor, greater complexities of managing an external workforce arise. Particularly, the rise of rogue spend seeps in unnoticeably and uncontrollably, leading to increased expenditures for organizations. It's imperative for organizations to maximize the advantages a contingent workforce has to offer without unnecessarily increasing costs as contingent labor scales.
This blog examines rogue spend within contingent workforce programs and two effective measures in reducing its occurrence. Two measures that help monitor, mitigate and manage spend include:
1. Automated technological tools, such as a vendor management system (VMS)
2. A proper spend assessment strategy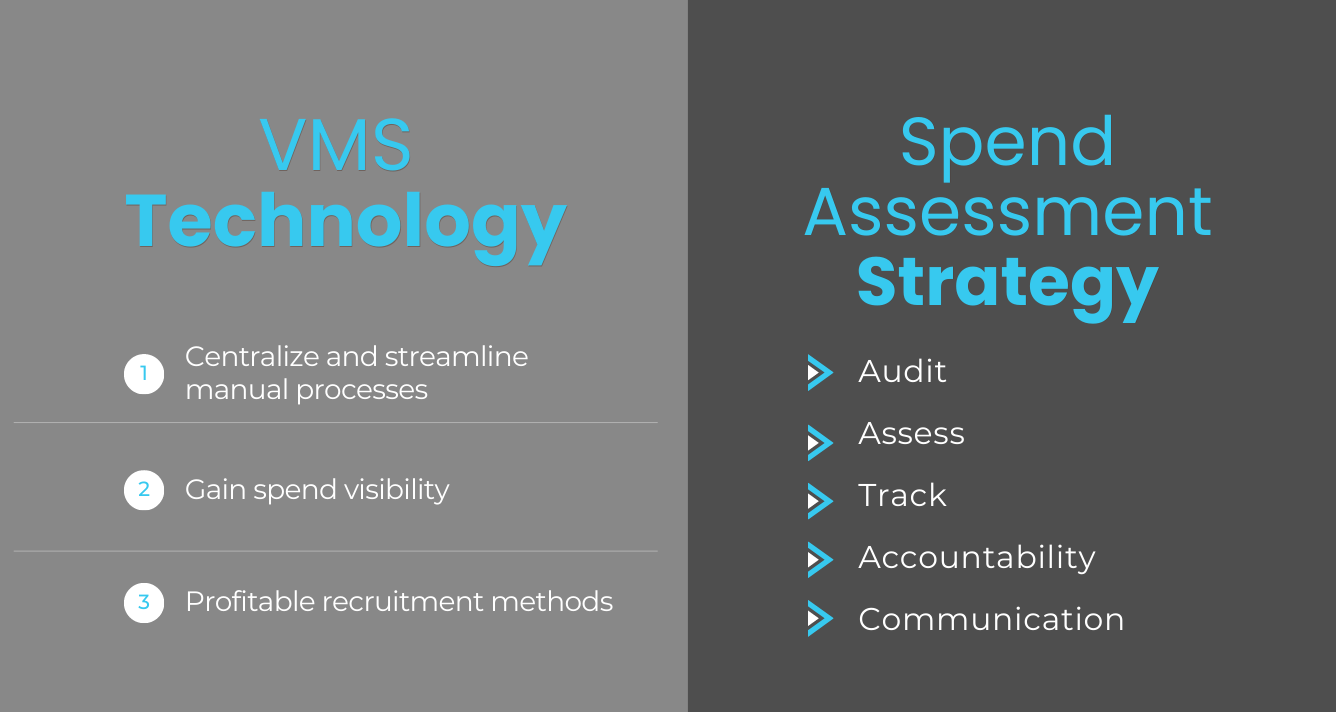 Rogue spend, also referred to as Maverick spend, is the process of sourcing and hiring contingent workers outside of pre-negotiated rate contracts or established guidelines of an organization's contingent workforce program. These recruitment efforts often result in hiring candidates through rogue methods that are financially unaccounted for or unapproved of.
Generally, self-sourcing and hiring candidates through such means is carried out with the intention to meet staffing demands quickly and cost-effectively. In some instances, people may be unaware of established hiring processes or may find these processes to be too time-consuming to follow. In other cases, employees may intend to save the institution money, unaware that such methods contribute counteractively.
Not only do labor costs increase through rogue hiring methods, but other risks include compliance errors, harm to contracts and vendor relationships, as well as setting the stage for other practices that undermine an organization's' guidelines and values.
How rampant is rogue spend when considering the bigger picture? Hiring a candidate here or there through rogue means may not make a significant overall financial impact, however when several people are hiring external staff through their own methods and rates, these contracts begin eating away at budgets when unaccounted for. In fact, it's reported that in financial planning and budgeting, 60% external labor went unaccounted for. 
What Contributes to Rogue Spend?
Rogue spending stems from varying factors, the most common culprits being:
1. Manual Processes: hiring external labor consists of many complexities and processes. Many departments are involved in hiring contingent workers, and each utilize their own software, documents, and methods. In many instances, organizations are operating under archaic, manual processes that include using spreadsheets and files that are scattered throughout various systems and departments. This leaves room for error and unnecessary spend to go unnoticed throughout the organization.
2. Lack of Visibility: with members from various departments conducting their own methods and documentation separately, no one has complete visibility into one other's methods or documentation. This creates fragmentation – a factor that severely hinders effective recruitment and workforce management. Furthermore, such fragmentation makes it difficult to oversee spend in recruitment and managing a workforce.
Additionally, low market rate visibility fuels rogue spend within organizations. Many hiring leaders are made to guess going rates for an occupation and can be overpaying for talent without knowing. 
3. Ineffective hiring strategies or processes: unestablished recruitment strategies or processes force hiring members to create their own methods, unaware of cost. Unstructured hiring fuels greater expenditures for organizations.
How to Reduce Rogue Spend
Tackling rogue spend can be a daunting task for organizations, but a highly effective measure in ensuring greater cost savings. Two methods in effectively minimizing rogue spend include:
1. Vendor Management Systems (VMS)
2. A Spend Assessment Strategy
1. How a VMS Reduces Rogue Spend
A VMS is a software as a solution (SaaS) technology solution, powered by AI technology, that allows organizations to recruit and manage contingent labor within a single, easy-to-use platform. A VMS unifies all sources of data and integrates with frequently used software used by hiring teams to centralize all documents and processes within a single platform. This allows for increased visibility of contingent workers, recruitment processes, worker documentation and labor spend by all parties.
VMS technology is highly effective in eliminating rogue spend as it addresses the common challenges faced by organizations that experience uncontrolled spend resulting from:
Manual Processes
Lack of visibility
Unstructured hiring processes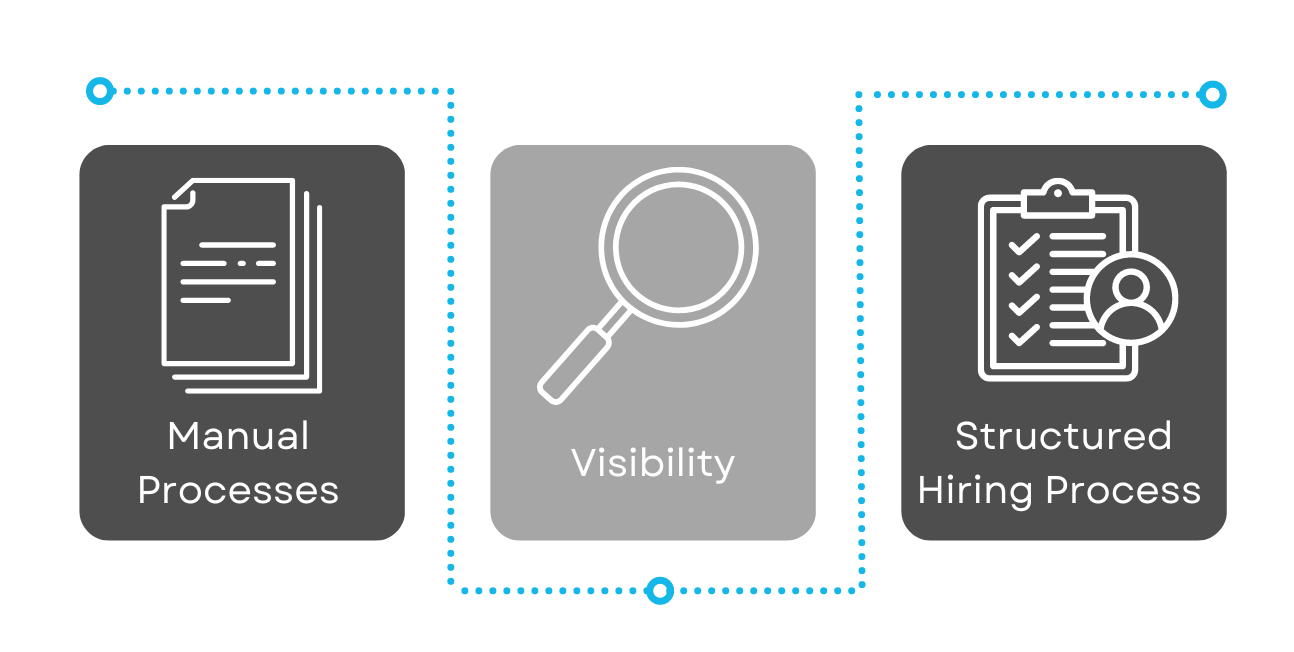 Manual Processes
Centralizing data through a VMS eliminates manual processes in recruitment and workforce management. Manual processes can be riddled with costly errors, fueling rogue expenditures. VMS automation reduces human error in areas where rogue spend seeps through, including time management and invoicing errors that contribute to unnecessary spend. 
Visibility
A VMS enables organizations to not only have complete transparency into who is working for them, where they work, when contracts are set, and labor rates – it extends into providing visibility into real-time market rates for cost saving opportunities and provides oversight into organizational spend. 
Power cost-saving opportunities and minimize rogue spend through market rate analytics tools. An effective VMS yields powerful market rate features that provide insight into real-time rates for a given occupation within a specific region. Hiring managers no longer need to set presumed rates that contribute to increased spend. 
For example, StaffBot VMS equips users to make data-driven decisions to fuel cost-saving opportunities. Users can view market rates throughout the nation by state, city, zip-code or a custom-defined parameter to compare what current trends are. Staffbot's VMS AI-predictive abilities further allow organizations to anticipate rate changes, allowing them to financially prepare for emerging trends and minimize unanticipated spend. 
Centralization of various forms of data further allow for collated data and collective reporting. Organizations can have greater visibility in reviewing organizational spend on labor. Review past expenditures and monitor current expenses to help minimize unnecessary spend. The ability to monitor, mitigate and manage spend enables organizations to create cost-effective business decisions.
Structured Hiring Process
Creating an organization-approved hiring method can help organizations reign in on rogue spend and increase hiring efficiency. A VMS assists hiring teams in establishing an efficient, consistent, and cost-effective hiring method for all hiring members to follow. Automate and streamline recruitment touchpoints including requisition distribution, sourcing, interviewing, and compliance tracking for a seamless recruitment process. Automation ensures efficiency, accuracy, and saved resources on time-consuming tasks. A consistent recruitment method not only saves time and money for organizations, but allows organizations to scale their recruitment efforts.   
2. Spend Assessment Strategy
As powerful as automation is in reducing the occurrence of rogue spend, it's equally important to establish a strategy and process to maximize a VMS's capabilities. The following section outlines strategies to help tackle prevalent rogue spending within organizations.
Audit
Conduct a thorough audit of previous expenses in order to identify rogue spending habits. Specifically, pinpoint where the source of spend is stemming from and inquire why. A spend analysis helps identify gaps and gain greater visibility to take the necessary steps in minimizing further unnecessary costs.
Assess
Review the recruitment process of your organization to understand the steps and associated expected costs within each stage. Specifically assess labor demand and staff usage of each department and facility to better understand outgoing sources of spend.
Track Spend
Meticulously track current spend and staffing costs. This allows your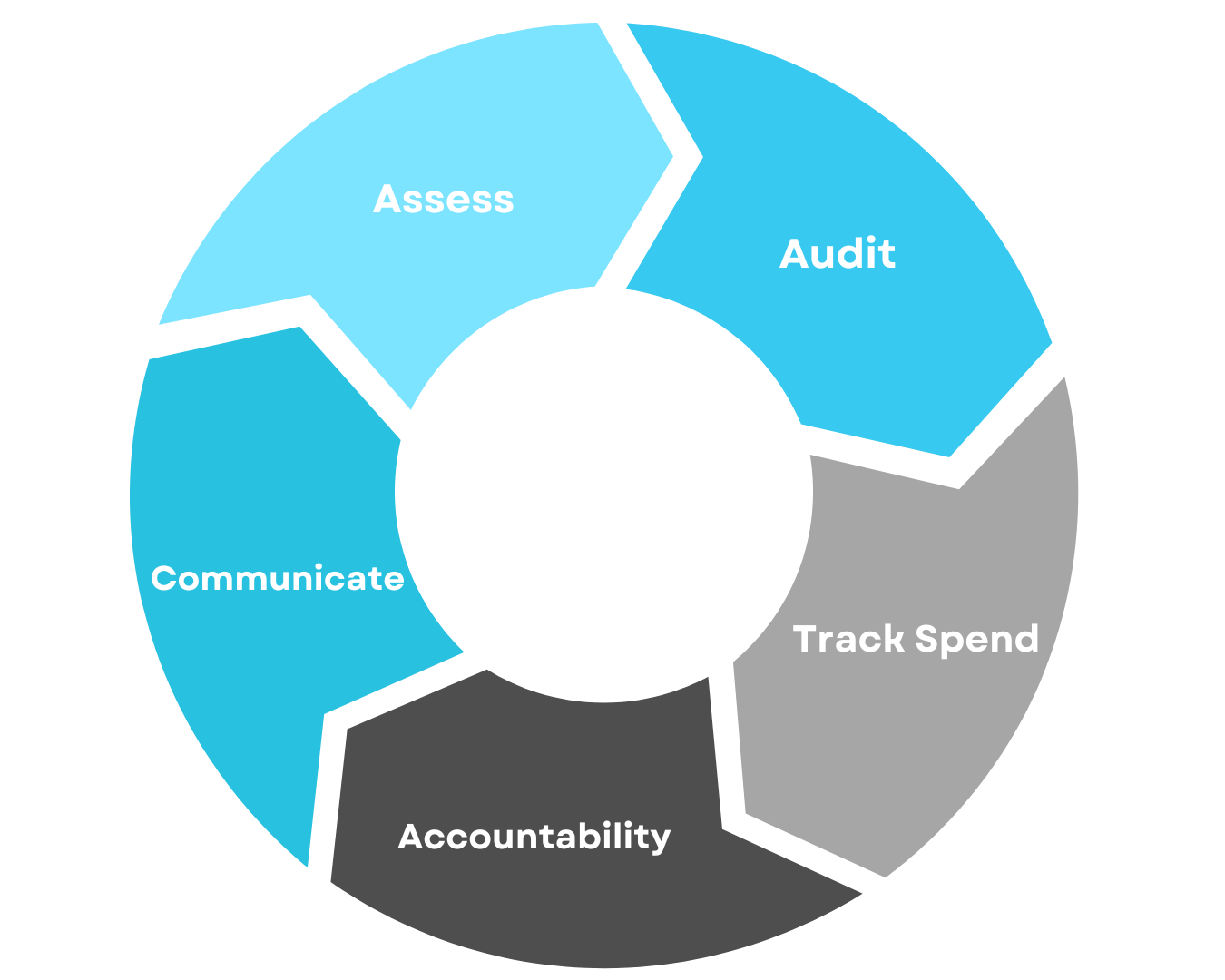 organization to understand normal incoming and outgoing sources to establish a baseline budget. Ensure to look for unnecessary costs, such as invoicing errors, that easily slip through the cracks.
Accountability
Holding managers accountable for spend management helps deter unnecessary outflows. Awareness of outgoing costs and who is spending helps employees stay accountable for responsible spend.
Communicate
By precisely communicating contingent workforce hiring policies between departments and employees, everyone can be informed on expected guidelines to help mitigate and reduce costs. Many instances of rogue spend result from employees being unaware of established hiring guidelines set in place. Communicate how guidelines and processes empower your organization's budget-related goals and minimize unnecessary costs.
An effective VMS targets several challenges. Rogue spending is often a powerful motivator for healthcare facilities to consider turning to automated solutions in order to save in key areas. If mitigating spend and reducing cost is a major factor to your organization, consider the value a VMS brings to all facets of your staffing efforts.
Connect with us using the form below to see how we can help! StaffBot goes beyond being a VMS provider – we are your recruitment partners and consultants. With an array of services, resources, and experience, StaffBot crafts customized workforce solutions in response to your healthcare organization's unique staffing challenges. 
Connect with an expert or request a demo
"*" indicates required fields