Understaffing is a prominent issue among healthcare facilities, one that has been exacerbated with the onset of the pandemic. Additional factors contributing to understaffed facilities include increased retirements, resignations, and budget cuts. Such shortages have left current nurses with excessive workloads, increased patient ratios, added pressures, and greater opportunity for burnout and fatigue.
Several studies from Columbia, Indiana State, Purdue, and Eastern Michigan University demonstrate the adverse effects that understaffed healthcare facilities have among both patients and nurses. Specifically, there are higher occurrences of accidents, medical errors, infections, falls, and increased mortality rates in hospitals experiencing short-handed staff.
This close correlation between inadequate staffing and increased medical errors, infections, and mortality rates is alarming, especially when considering that many of these consequences are preventable in the first place.
This article examines how ongoing nurse understaffing impacts the quality of care and safety of patient and nurse wellbeing, as well as compromises healthcare facilities' reputations. With many of these medical events being preventable, this article examines how effective recruitment and retention strategies help reduce understaffing to promote nurse wellbeing and increase greater patient outcomes.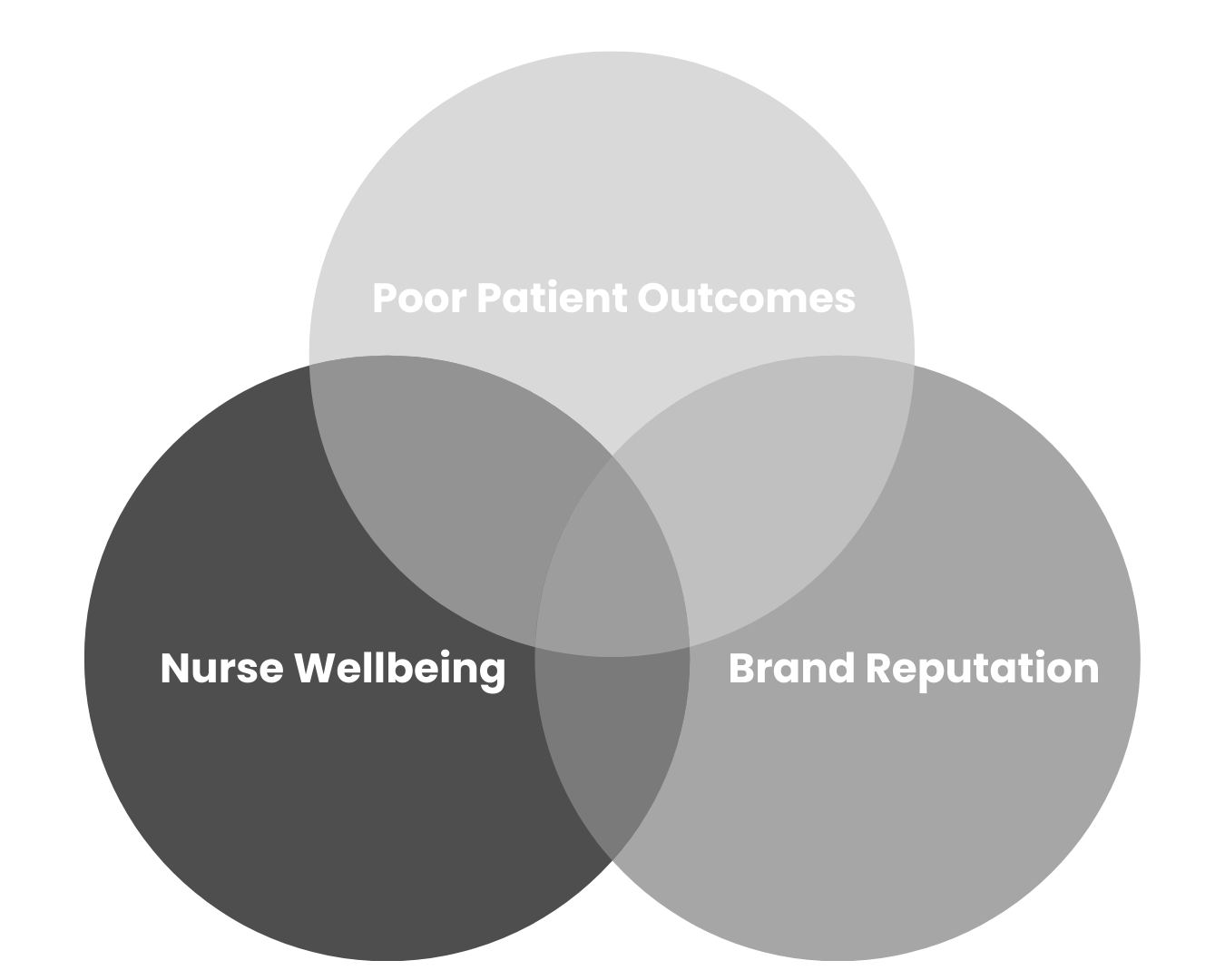 How does nurse understaffing impact organizations?
1. Poor Patient Outcomes
With limited manpower, nurses often operate under stressful environments with demanding time pressures and overbearing workloads. In response, many nurses may take safety workarounds in order to manage these demanding tasks. These workarounds are often considered a necessary solution to cope with the disproportionate workloads assigned to understaffed nurses. Unfortunately, safety shortcuts increase the instances of medical errors and injuries, leading to a decrease quality of care. Indiana University and Purdue University's study in the Journal of Advanced Nursing consistently identified the link between greater workaround practices and increased instances of near misses – events that potentially lead to medical accidents and injuries.
Added workloads, greater stress and increased burnout further affect a nurse's ability to focus or remember tasks at hand, which in turn can lead to medication errors or decreased patient surveillance. Such stressors also lead nurses to rush their care between patients, resulting in decreased quality of care, leaving room for medical errors or near misses.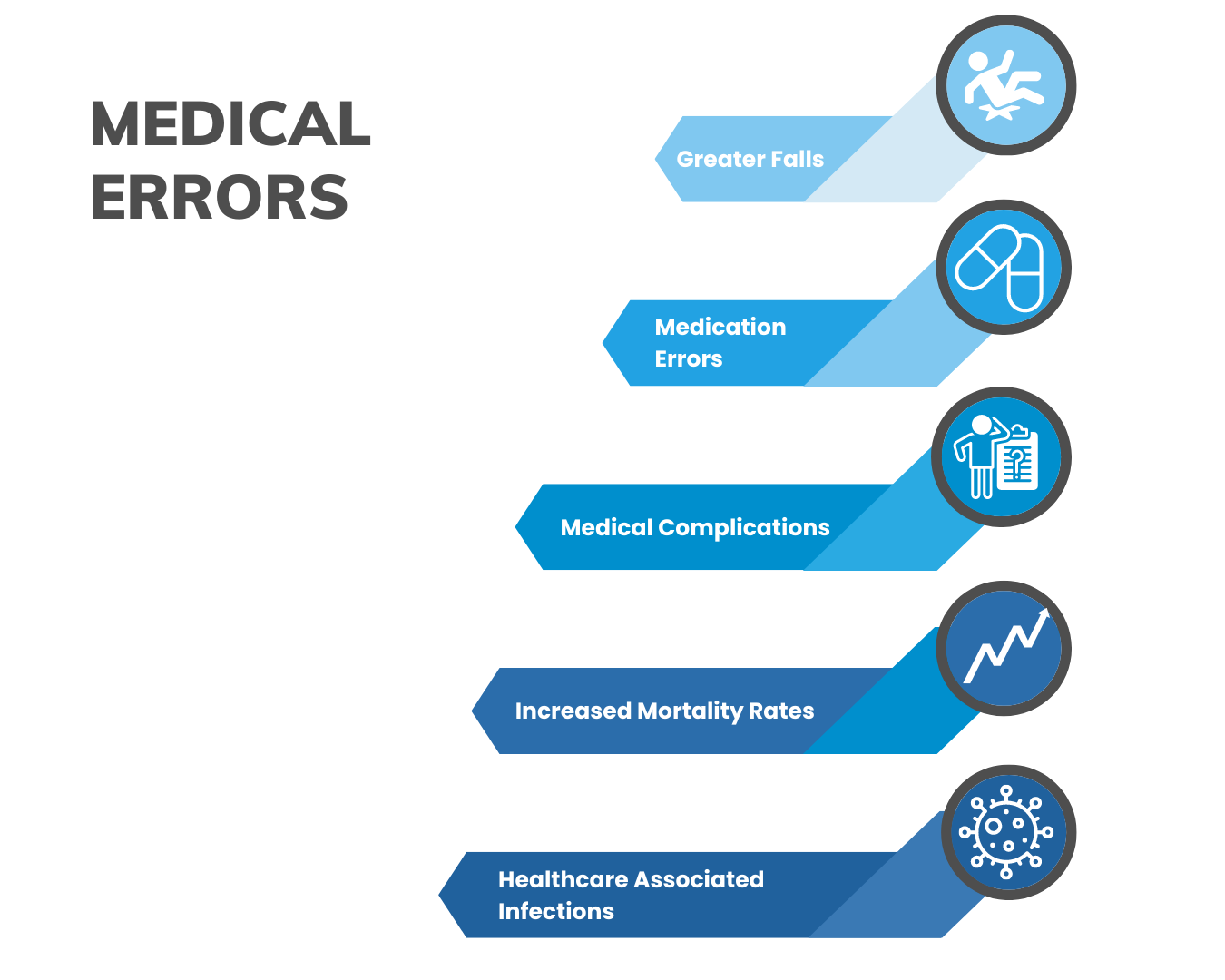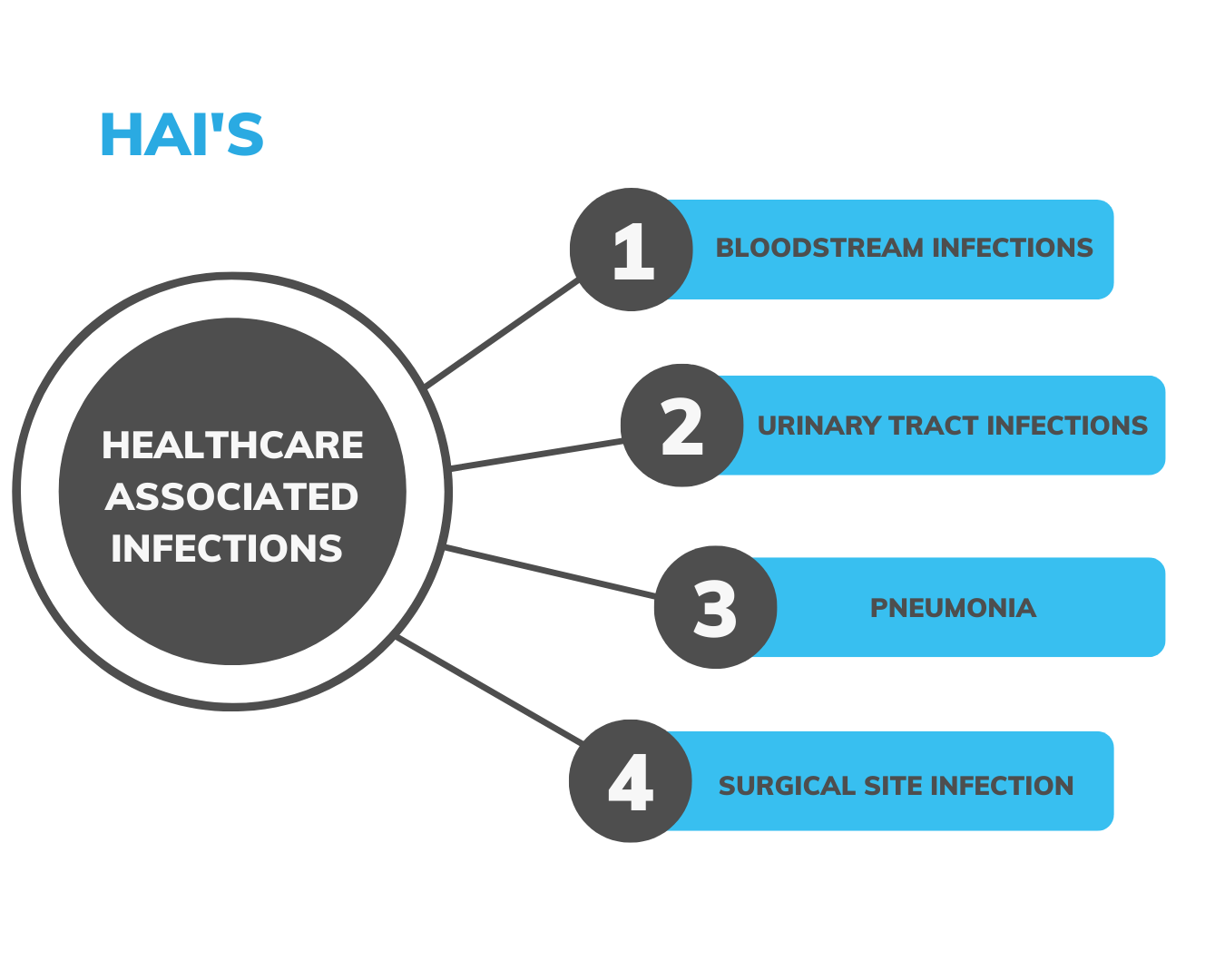 2. Nurse Wellbeing
Nurse wellbeing is also jeopardized in instances of inadequate staffing. Greater workloads, demanding hours, and increased patient ratios lead to burnout and exhaustion. These physical, emotional, and mental stressors can manifest into health issues ranging from depression to hypertension. Additionally, experiencing poor patient outcomes or instances of medical errors can intensify the stress nurses face.
3. Brand Reputation
Poor patient experiences resulting from medical negligence leads to patient dissatisfaction. With hospitals increasingly becoming patient-centered focused, poor patient outcomes and negative reviews can damage a healthcare facility's reputation and credibility. Known poor work environments may further deter healthcare professionals from joining a facility – fueling workplace understaffing. It's also possible that medical errors resulting from negligence can financially hurt a healthcare organization. Prioritizing nurse wellbeing and patient outcomes is essential for an organization's reputation. This prioritization can help to attract the right talent and prevent understaffing.
How to tackle workplace understaffing
1. Effective Recruitment
To alleviate excessive workloads of shorthanded staff, effective recruitment is a must. Many healthcare facilities are turning to contingent staff through the use of service providers or vendor management systems to hire quality candidates efficiently and quickly.
Contingent labor is an essential and competitive asset in the current workforce landscape. When done correctly and sustainably, contingent labor is cost-effective and bridges the skills gap demand currently experienced by healthcare facilities nationwide. 
Whereas a service provider may oversee the entire staffing and vendor process on an organization's behalf, a vendor management system gives healthcare organizations greater autonomy and control over the recruitment cycle. Both have overlapping advantages in minimizing understaffing.
A Managed Service Provider (MSP) is an external, third-party organization that oversees the entire recruitment process for contingent or permanent labor on behalf of a healthcare organization. They alleviate several HR and recruitment tasks for organizations so that HR and hiring leaders can reinvest their time into other business objectives. MSPs have the advantage of having an extensive staffing network and candidate pipeline to recruit diverse talent swiftly and cost-effectively. MSPs will oversee hiring, screening, compliance, onboarding, time management and invoicing. Learn more on what an MSP does, the benefits, and who their services are best suited for. 
A vendor management system (VMS) is software as a service (SaaS) technology solution designed to manage a contingent workforce. It's automated abilities streamline all aspects of recruitment, integrates all sources of data within a single, easy-to-use platform, manages candidate and vendor profiles, and hosts a suite of features and tools to boost contingent workforce programs.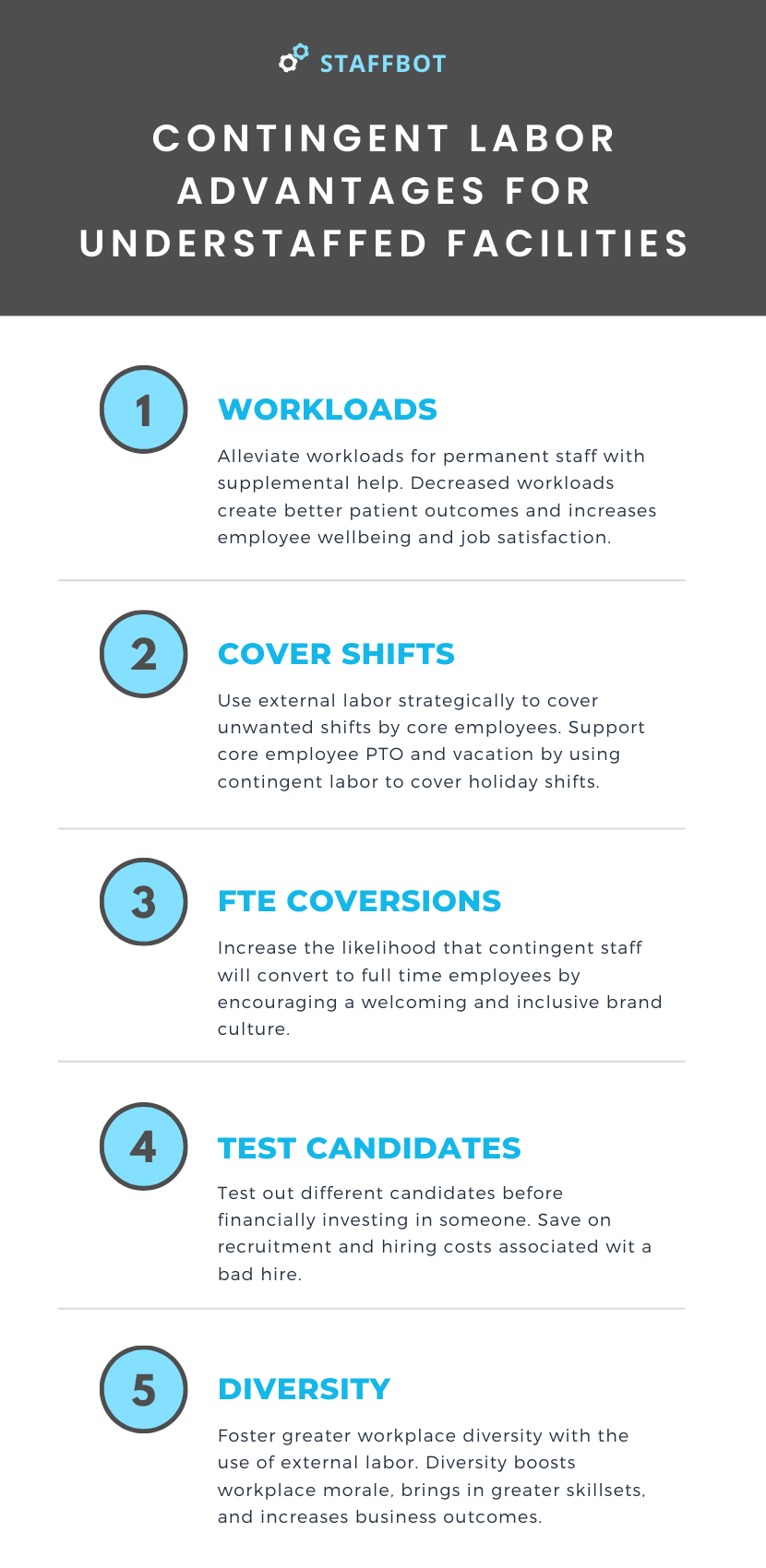 Managed Service Providers (MSP)
Experienced in quick, efficient and quality recruitment

Thorough vetting and matching of qualified candidates
Oversees recruitment cycle steps from sourcing, compliance and onboarding
Manages administrative tasks to reduce your workload
Partnership: works within the scope of your specific needs and regulations
Tracks vendor performance to ensure value
Monitors labor demand and market trends
Provides regular business intelligence and reporting
Vendor Management System (VMS)
Greater control of all staffing processes for your organization
On hand talent pool to tap into
Instant and automated match-pairing features with quality candidates based on your defined parameters
Friendly-user interface to create requisitions and carry out hiring processes
Automated capabilities for streamlined hiring: compliance, payroll, timesheets, interviewing tools, market rate analytics
Track candidate and vendor quality & performance
Monitor labor demand and market trends
Reporting to how determine effective staffing strategies are
Overcoming turnover is a multifaceted approach that necessitates assessing different areas of your workforce strategy. Retention tactics are highly effective in reducing turnover and promoting retention. The American Heart Association's (AHA) 2023 Healthcare Workforce Scan identified that greater retention efforts that health systems are exercising include: 

» Safe work environments.
» Safe reporting structures.
» Competitive compensation.
» Better career guidance.
» Appropriate staffing levels.
» Confidence that supervisors and leaders have their backs.
» Healthy work/life synergy.
» Flexible scheduling.
» Relevant upskilling/professional development.
» Shared decision-making.

Want further information on acquiring highly skilled healthcare workers swiftly and effectively? Download our free ebook!
Looking to improve staffing ratios within your facility?
The staffing crisis is hurting many healthcare institutions. We want to help. StaffBot's full-service workforce solutions are crafted to bring on the right candidate swiftly and cost-effectively. We believe that longterm sustainability is key for a successful healthcare staffing strategy. Let us help your institution build the right team that will increase your staffing ratios for short and long term success.
Whether your organization is looking for full managed services to take over the workload or you're wanting full autonomy with expert guidance through VMS utilization, StaffBot works side by side with your organization to successfully achieve your staffing objectives, together. Consult us for guidance on crafting your contingent workforce strategy or fill out the form below for any inquiries!
Connect with an expert or request a demo
"*" indicates required fields