With inevitable shortages looming within the healthcare industry, recruitment strategies are evolving to gain competitive advantages in attracting and retaining talent. Shortages are expected to persist for the coming years as the lingering of effects of the pandemic, coupled with an aging workforce and increased patient needs, continue. Despite these challenges, healthcare industries have remained flexible, adaptable and resilient in addressing growing talent demands.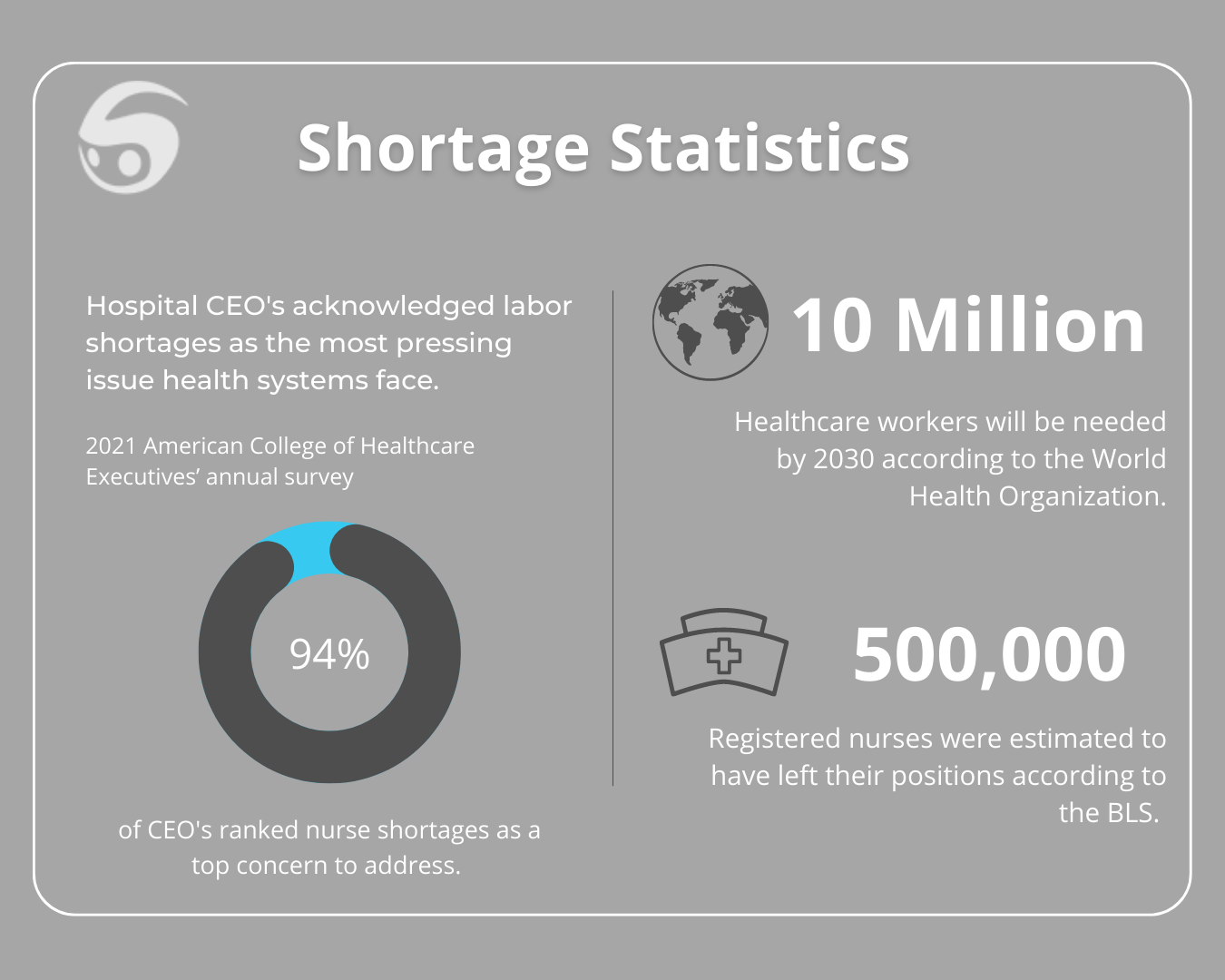 Staying informed on the latest recruitment trends unique to healthcare challenges can enable organizations to have a competitive advantage in attracting the right talent and creating sustainable recruitment strategies for the future. For healthcare leaders, employers, and recruiters, this blog details upcoming healthcare recruitment trends to integrate into your workforce strategy for greater success.
Recruitment trends that health systems are increasingly focusing on in the coming year include:
Employer brand
Diversity
Technology
In-house staffing programs
Employee wellbeing
Remote recruitment
Digital compliance
Contingent Labor
Engage with the emerging workforce
1. Employer Brand
Employer brand matters. Now more than ever employers need to distinguish themselves and highlight how they differentiate from the competition. A powerful brand strategy will communicate the organization's mission, values, unique characteristics, benefits, workplace culture, DEI initiatives, and a commitment to employee wellbeing. This, in turn, can be a valuable recruitment tool.
With endless job opportunities for candidates to choose from, it's fundamental to not only market these initiatives when recruiting, but to make them accessible at all times for job seekers. LinkedIn's 2021 Employer Brand Statistics survey demonstrated that 75% of candidates considered an organization's brand reputation before even applying for a position, suggesting that showcasing benefits and workplace culture on websites or social postings (such as employee videos or pictures of workplace culture) can be an important determinant factor for job seekers.
2. Diversity 
Diversity and inclusivity practices are important for job seekers and is often a condition used to evaluate a brand. Lack of diversity initiatives can deter skilled and valuable talent from your organization – talent that organizations cannot afford to dissuade.
Equally, integrating diversity initiatives yield positive results for patient wellbeing, employee happiness, and overall business outcomes. Having a diverse workforce allows teams problem solve more effectively, foster creativity, eliminate health disparities, deliver personalized care, and improve employee morale.
Sourcing from a diverse talent pool helps broaden recruitment efforts. Recruiting efforts should include strategies such as:
Outreaching to diverse talent pools
Crafting job descriptions that encourage diverse applicants and perspectives
Creating standardized interview processes to minimize hiring biases
Tip: Often, traditional hiring methods are restrictive in finding the right person, particularly when traditional methods rely on local sourcing. Try utilizing service providers to source a broader pool of talent and minimize bias throughout the hiring process.
Managed service providers or external staffing agencies often have a large network of applicants, vendors, and resources from across the nation to help healthcare organizations source temporary or permanent staff – this can be helpful in tapping into diverse candidates that would otherwise be difficult to source.
3. Technology
Integrating digital innovations into the workplace can give healthcare brands a competitive edge. Leveraging AI and automation technologies allow brands to save time, streamline recruitment operations, enhance the hiring process, and improve the candidate experience. 
The candidate experience is an important dynamic in recruitment. Poor candidate experiences stemming from undefined recruitment and hiring processes leads to miscommunication, delayed onboarding, poor credentialing, and overall inefficiency. This can discourage valuable candidates from moving forward in the hiring process and can hurt an organization's brand reputation. It's fundamental to create a smooth and consistent hiring experience that positively reflects your brand's professionalism.
Overall, having a streamlined recruitment and hiring process powered through automation enables healthcare facilities to acquire qualified permanent and contract labor quickly.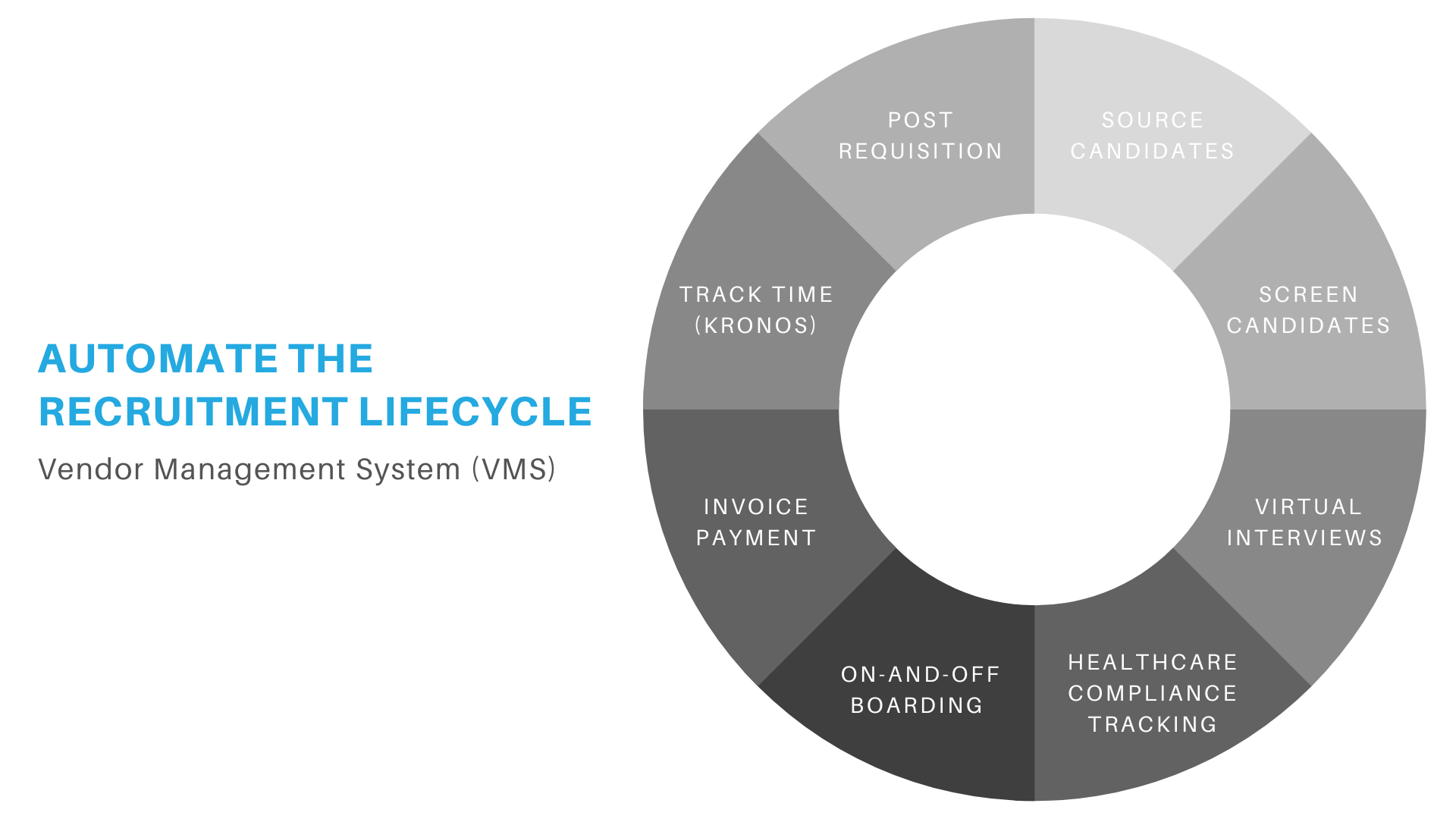 Use VMS automation to enhance recruitment processes.
4. In-House Staffing Programs
Coping with ongoing shortages and increasing crisis rates for travel nurses, many organizations are choosing to turn operations into in-house staffing models. Rather than relying on external agencies to acquire travel clinicians, organizations are building their own travel staffing teams to build a pool of talent that can be deployed to various locations.
This internal staffing model has several competitive advantages including cost reductions, creating an on hand talent pipeline, as well as recruiting, retaining and recapturing previous staff. Organizations are able to develop their own packages and offer flexibility to core and travel clinicians.
This recruitment strategy can yield positive, long-term results, however, with technical limitations and an improper strategy, many in-house programs fall short. Consider investing in a vendor management system. Often this powerful, yet easy-to-use technology is leveraged by healthcare service providers and external agencies in their own recruitment strategies for consistency, transparency, and efficiency within recruitment programs.
A VMS empowers in-house programs to:
Automate and streamline recruitment operations
Provide market rate tools for visibility on real-time rates for healthcare occupations in the region
Track candidate and vendor profiles within a single system
Integrate all sources of data within a single platform for program transparency and consistency
5. Employee Wellbeing
The pandemic emphasized the need to acknowledge healthcare employee wellbeing. With increased stress, fatigue, burnout, as well as mental and physical repercussions resulting from healthcare shortages and high workload demands, many clinicians left their position or the industry all together.
52% of nurses surveyed in 2022 are considering or intending to leave their positions, while 60% reported feeling burned out, and 75% of nurses experienced exhaustion and stress.
Source: American Nurses Foundation 
Organizations are now shifting priorities to encourage employee wellbeing. With endless employment options available, healthcare practitioners now expect flexibility, greater work-life balance and improved working conditions. It's important for recruitment strategies to convey an employer's commitment to employee wellbeing, as well as initiatives and resources to promote employee health and happiness.
6. Remote Recruitment
An emerging trend gaining traction is remote recruitment. Remote recruitment has the benefit of tapping into a larger talent pool, reducing the time it takes to do in-person hiring tasks, and reducing resources spent on recruiting talent traditionally. It's important for recruitment teams to evaluate or implement a virtual end-to-end recruitment strategy to accommodate a larger audience. Important touchpoints include virtual interviews, onboarding, and training.
Virtual interviews allow candidates to remotely partake in the interview process and are advantageous to both candidates and hiring leaders. With healthcare clinicians working busy schedules, often at non-traditional working hours, trying to establish an in-person interview between healthcare hiring managers and candidates is difficult as time conflictions may arise. Recruitment software, such as a VMS, often include virtual interview tools that allow hiring leaders to set important work-related questions and allow respondents to submit virtual videos of their responses. Videos are accessible at any time convenient to the hiring leader's schedule. This allows for optimized interviewing for both parties.
7. Digital Compliance
An important touchpoint in the screening and onboarding process is compliance tracking. Compliance tracking and management is no easy feat in healthcare, but to deliver high-quality services to patients and avoid costly penalties, it's essential to properly credential oncoming employees. Healthcare recruitment trends are turning to digital verification to ensure credentials and avoid the risk of a bad hire. Many automated recruitment technologies will integrate with frequently used compliance software to automatically track needed credentials, expired credentials, and upcoming expiring documents.
See how StaffBot's VMS integrates with healthcare compliance entities such as Nursys, the American Heart Association (AHA), and Relias to ensure candidates are qualified at all times with a complementary demo.
7. Contingent Labor
Though the use of contingent labor is not a new trend, it can be used in new ways. Many health systems relied on temporary labor to meet shortage demands since the onset of the pandemic. Though rates were driven to unexpected heights at the peak of the pandemic, they have gradually lowered (however, compensation continues to be higher than before the pandemic).
Contingent labor is an indispensable feature that health systems currently leverage and will continue to do so. Systems conducting in-house staffing agencies agree that external, temporary labor through agencies is still an essential component to their workforce strategy.
Rather than relying solely on contingent labor, organizations are seeking long-term solutions to attract and retain staff. Part of these efforts include boosting employee wellbeing, promoting flexible scheduling arrangements, and encouraging PTO. Recruiting a contingent workforce can help boost these efforts by:
Reducing workloads to enable greater work-life balance
Taking over remaining shifts to accommodate core staff work arrangements or time off opportunities
Avert oncoming shortages
Furthermore, some organizations are building strategic float pools consisting of contract and permanent placements to help address unexpected shortage needs throughout various departments.
Learn how MSP's can help boost your contingent workforce and recruitment strategies.
8. Emerging Workforce
A strategic recruiting approach many organizations are investing in is reaching out to the emerging workforce. Partnerships with nursing programs and universities are allowing organizations to market their job opportunities to the oncoming talent pipeline. Establishing a relationship and offering benefits, tuition reimbursements, and training opportunities allow organizations to secure future talent.
Looking to Boost Your Recruitment Strategy?
StaffBot and our partner brands assist healthcare organizations in boosting recruitment operations from streamlining workflows, providing healthcare-tailored recruiters, building float teams, or consulting with healthcare institutions on successfully running in-house staffing programs for long-term success.
Connect with a workforce solutions expert to discuss how our diverse services can help boost your organization's recruitment strategy! Sign up below and we'll get in touch shortly.
Connect with an expert or request a demo
"*" indicates required fields